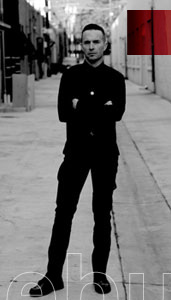 [debut] is more than a band. It's a music and art collective with an ever-changing cast, directed by songwriter/producer Gareth Thomas.
Lying somewhere between electro pop and alternative rock, [debut] delivers soundscapes that are cinematic and challenging yet at the same time accessible and emotive.
[debut] began as a solo project and the first two studio albums were instrumental, electronic outings fueled by Thomas's love of analog synths and experimental music. Many of the tracks from "Soaked" (2006) and "Set to Zero" (2010) have since been featured in film and tv placements.
More recently, to complete an increasingly diverse palate of song based material, Thomas has turned [debut] in to more of a collective venture with a revolving door of talent being brought in to complete larger studio productions and a full band live show. This collaborative approach has expanded to video, film and art with the forthcoming "Postcards from Berlin" & "Home" projects defining this concept.
"Starting to Love it", (the band's first single) was released in early 2013 and featured Depeche Mode drummer Christian Eigner plus Recoil's Siobhan Lynch and Cyd Claire on Vocals. The video, filmed by Chris Corner (IAMX/ Sneaker Pimps), was featured on Depeche's social media channels receiving a 95% "thumbs up" rating from the partisan Depeche fans.
The much anticipated, follow-up single "Sweet Little Girl", was released mid-2013 with an acoustic, in-studio version premiering 5 days prior. The official video was directed by renowned indie film-maker, Danny Drysdale (The Killers, IAMX). The EP features a remix from electro-industrial act, Aesthetic Perfection and vocals are provided by a new vocalist, Angela Bartys.
2015 saw the release of the first full, song based [debut] album. "Postcards From Berlin" was fan-funded through Kickstarter crowd-funding and recorded in Los Angeles and Berlin throughout 2014. This dark and intense collection of epic alternative rock features nine songs with a hidden bonus track on the limited edition CD. For the first time, [debut] mastermind Gareth Thomas steps to the for and delivers the majority of the lead vocals with further guest appearances from [debut] mainstays Cyd Claire, Sammi Doll and Angela Bartys. Recorded in the famous Hansa Meistersaal (U2, Bowie, Depeche Mode) and UFO Sound Studios (IAMX) in Berlin, the album presents a unique palatte of soaring strings, dark and brooding pianos, bunker drums and pulsing electronics. It's release delivered a storm of rave reviews …
"Highly cinematic and evocative, an honest and raw lament." Huffington Post
"Cinematic, sleek and nothing short of captivating. close to being a gothic masterpiece" The Big Takeover
"Intense and captivatingly eccentric …. becomes a colossal peak, an electrifying tempest of thunderous bass and chilling feedbacking synths" Papercut Magazine
"Introverted and dark but with hints of optimism throughout. Simply Gorgeous" Fourculture Magazine
"….mesmerizing and stunning" Vents Magazine
.
2017 sees the release of a new single "HELLO" on May 11th with an EP also titled "HELLO" and "The Battle", a 6 track megamix EP scheduled for release late summer.
Sammi Doll
Vocals – featured on "Open Your Soul"
Ex-MySatellite and IAMX keys/ vox. Gareth & Sammi first performed together at an intimate fan-only party at the [debut] studio in Aug 2013. It was here that several vocals were also recorded for future dates. Sammi also filmed and photographed Gareth throughout the Berlin recording sessions that feature in the "Postcards From Berlin" artwork and "making of" films. View her website.
Angela Bartys
Vocals – featured on "Sweet Little Girl" & "Come Around"
Angela teamed up with [debut] through a craigslist ad looking for vocalists. Her unique style immediately caught the ears of the [debut] production team and was brought in to sing "Sweet Little Girl". She has since contributed to several [debut] tracks and co-wrote the lyrics of the yet to be released "Snd Me Ur Luv" with Gareth. Angela is also an actress, tv producer and voice over artist. View her website.
Melinda Smith
Vocals – featured on "Home"
Melinda first started working with [debut] in 2007, helping write what later became the song "Home". Gareth recorded some of their writing sessions using his laptop microphone and then the pair lost contact during a spree of house moves! Desperate to get Melinda's voice on the master recording, Gareth managed to track her down and finally the recording was completed.
Siobhan Lynch
Vocals – featured on "Starting to Love it"
Siobhan came to [debut] through Alan Wilder of Depeche Mode. Gareth had met Alan on the SOFAD world tour and the pair were shocked to find that they lived in the same small, country town in southern England. When looking for a vocalist to help finish "Starting to Love it", Gareth reached out to Wilder having heard Siobhan on his 1998 Recoil album "Unsound Methods". Siobhan laid down various vocal takes and ideas in her home studio which Gareth then edited and rearranged to create the "song". Gareth & Siobhan never met during this entire process! Siobhan has been a part of many music projects including Garrison and Papa La Bas.
Cyd St. Claire
Vocals  – featured on "Starting to Love it" & "Want"
Cyd teamed up with [debut] for the video of "Starting to Love it", recording a special "video version" and was subsequently added to the Ambient remix. She has since become an important part of the live show and begun working on more tracks in the studio with Gareth & Adam. A songwriter and versatile musician in her own right, Cyd writes top line for several name artists. View her website.
Adam Schiff
Studio Production – featured on "Starting to Love it", "Home", "Sweet Little Girl"
Adam is a highly sought after composer and producer whose engineering skills are key to the [debut] sound. A renowned programmer and technician, Adam has worked with a long list of who's who in the Los Angeles music scene. He was head composer at Machine Head before starting Mira Music and has done remixes for artists such as Seal, Jason Bentley and Michael Jackson. View his website.
Michael Fitzpatrick
Cello – featured on "Home"
This LA based virtuoso has been described as a "rebel marching to his own tunes" by The New York Times. Michael is a renowned concert cellist and Using music as a vehicle for creating global peace, Fitzpatrick conceived and produced the groundbreaking Compassion recording and film project inspired by the friendship between His Holiness the Dalai Lama and the late Thomas Merton. He has performed around the world with some of the best orchestras as a soloist and chamber musician. View his website.
Christian Eigner
Drums – featured on "Starting to Love it"
Christian is perhaps best known for his dynamic drum work as part of Depeche Mode live shows since 2007. He has also contributed to Depeche Mode's "Ultra" recordings and worked on Dave Gahan's solo projects as a co-writer, producer and musician. Working out of his home studio in Vienna, Austria, Christian added to an already highly developed recording of "Starting to Love it", taking the drum and percussion tracks to a new level. He is currently working on the Compact Space project with Daryl Bamonte and Florian Fraemmer. View his website.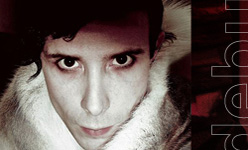 Chris Corner
Director/ Editor – "Starting to Love it"
Chris is a renowned songwriter, musician and video maker, most known for his current work as IAMX. Based in Berlin, Germany, this ex-Sneaker Pimps mastermind has redefined the path for independent musicians and artists. His 5th studio album titled "The Unified Field" traipses across dark midnight landscapes and populates them with ground-breaking rhythms, dancefloor beats, and highly distinctive, emotion-heavy vocals.  After getting widely recognized for directing, shooting and editing several music videos and live visuals for IAMX, Chris has recently expanded his film and video productions to work with other artists such as James Cook and now [debut]. Watch for more collaborations between the two in the future. View his website.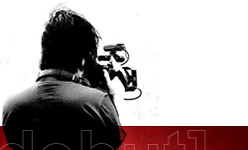 Danny Drysdale
Director – "Sweet Little Girl"
Danny and [debut] were destined to work together. Previously commissioned by The Killers and Compact Space, Danny and Gareth finally met through Chris Corner  at the "Starting to Love it" video shoot. A partner with Corner in Orphic, Danny is a renowned filmmaker known for his diverse catalog with Eight Little Crickets. View his website.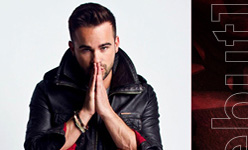 Chase Stockman
Photo/Video – "Starting to Love it" & "Sweet Little Girl"
Chase is a widely talented artist, gliding effortless from behind the camera to the star of the show. A vocalist, songwriter, producer and director, Chase is a quickly rising star in the Hollywood scene. A key component to the [debut] collective, Chase works closely with Gareth on capturing behind the scenes content in photographic and video forms as they produce the projections that are part of the [debut] live shows. View his website.