The last few months have literally flown by. Always something to do for this amazing project that has grown from an idea into …. well, I'm not quite sure what it really is anymore but I do know that it's much bigger than I ever expected.  A stop gap 6 song EP that was supposed to fill a few months is now a 9 track album. A few postcards mailed from Berlin is now not only that but also a gallery collection of polaroids, a "making of" film and 9 live show original projection films. gulp.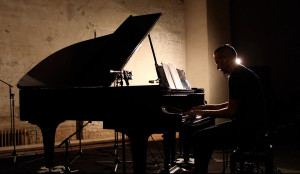 So the actual music is in the final stages. All the audio from Berlin has been integrated to the LA sessions and been fine-tuned to perfection. Everything except 2 final lead vocals is recorded and in the mix suite at this time. It's been a challenge to keep going at times. You think you've finished and then realize that something needs work. it never stops until a deadline is enforced. Deadline is Dec 1. no compromises, no sleep!
The artwork for the postcards and album is looking fantastic and captures the mood of what I am trying to convey perfectly …. dark, insular, isolated. Same goes for the live show projections. They are all original pieces and scripts written and directed by me. I'm literally bursting with excitement as if this all comes together like I hope then its going to be amazing. Expect a new song in mid Dec along with the documentary then a single in January with a new video then the album mid Feb 2015. can't wait to play it live!!
Speaking of "live", you may have read that I shave been working with Chris and Janine of IAMX at their shows in Los Angeles. Well, what a glitter fest that has been – we did 4 shows in 3 weeks including one great one with Gary Numan. All super fun, dirty work. Quite what my job title now is I don't know but I do know that I love it and can't wait for more.
ok, back to the studio, edit bay, camera department, etc etc – non stop, til you rock :)
Gx