Hi Everyone,
Again its been a pretty intense and amazing week in the [debut] camp. First off is the news that the Kickstarter campaign to fund "Postcards from Berlin" has hit 50% today. Thank you for all the support. We've got 2 more weeks to go to get to the minimum of $7.5k so if you have not yet pledged please do. There are only 2 signed lyric sheets left as these have proven to be popular. Limited edition CD's are going fast too from the back catalog. Anyway, here's the link – go deep :) : http://kck.st/R53tNo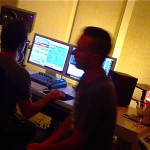 On that note, (no pun intended), I've just finished the latest [debut] song, "Open Your Soul". It's quite a dark track so I look forward to your comments and analysis of the lyrics! It's quite a different sound from past [debut] works and will give you a good insight to the palate I'm using on "Postcards". Big drums, pianos, dark bass synths, big dynamic changes and some surprises. It's also a first for [debut] in that I, that's Me, yours truly, has stepped up to the microphone and delivered the lead vocals. A few people had suggested that I step out from behind the keys to give [debut] a more obvious leader (thanks Janine and Chris for the push). In fact, not wishing to blow my own trumpet (another terrible pun, sorry) but I did almost everything on this track from the writing to recording, production and playing all instruments – I'd normally bring in a few more peeps but this time I just got on a roll and couldn't stop.  My trusty and genius engineer buddy, Adam Schiff helped me to perfect the mix and mastering. Adam did try to replace my voice with a Monotron synth (see Facebook video) but alas he knew he was beaten. A new collaborator, the amazing Miss Sammidoll provided backing vocals. You can be certain that there's more to come from this collaboration. In fact, we did a live acoustic set last year and we just found the video so PERHAPS we will make it public soon. Perhaps.
Backers of the Kickstarter campaign can get a Free "thank you" download of a special "LA version" – check out the teaser at this link : https://soundcloud.com/debutsounds/open-your-soul-teaser : once you pledge you will get access to a backer only update and the download link. I will also do a "Berlin Bunker" version at UFO studios in September where the drum sound will be enormous. plans are also afoot to do a video for the track.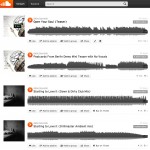 so lots to do – the work is never ending BUT it's totally worthwhile when I get to share it all with you
Peace, love & mischief
Gx